A Place To Begin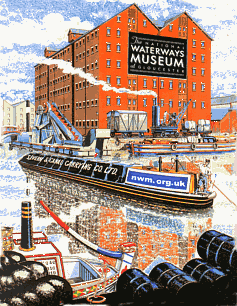 The National Waterways Museum, Gloucester, UK
History tells us that although there were a few earlier canals, the Duke of Bridgewater's canal from his mines at Worsley to Manchester, engineered by perhaps the greatest of canal engineers, James Brindley, was the beginning of the canal age. This cut was completed in 1761, and the canal age lasted until 1838 when the London to Birmingham railway was opened bringing along stiff railway competition to the waterways network. During the intervening years, over 300 Acts of Parliament were passed authorising the building of a variety of canals throughout the United Kingdom. Brindley became involved in many of these projects and he dreamed of constructing a 'grand cross' of canals connecting England's four major rivers, the Severn, Trent, Mersey and Thames. This finally came about but not until many years after his death.
Among the great canal engineers alongside James Brindley were William Jessop and Thomas Telford.
He had a share in Golden Hill colliery and was a partner of his brother John in the Longport Pottery. His brother John brought land in the vicinity of the proposed canal at advantageous terms and in 1773 (before the canal was opened) built two factories at Longport. James Brindley married Anne Henshall on 8 December 1765 at Wolstanton church, and had two daughters, Susannah and Anne. He also had a natural son, John Bennett (1760-99), from whom Arnold Bennett the novelist descended.
In all, he was responsible for a network of canals totaling about 360 miles (580 km). The improvement in communications helped to hasten the Industrial Revolution. Brindley, a self-made engineer, undertook all his works without written calculations or drawings, leaving no records except the works themselves.
He died at Turnhurst on 27 September 1772 and was buried in the churchyard at Newchapel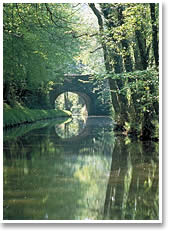 A very large selection of photographs

featuring the inland waterways

of Great Britain

two and a half years on the

canals of England and Wales

with Roger and Maureen Yorke

waterways photographer

The Manchester, Bolton and Bury Canal

The Wendover Arm Trust is a charity

dedicated to restoring the Wendover Arm

of the Grand Union Canal which runs from

the Tring Summit at Bulbourne

London's Lost Route to the Sea

Birmingham & Black Country Canals

Past & Present

about the River Thames, and the places

and people on its banks.

to be found on our

the Industrial Revolution, Staffordshire

was at the heart of the action. There

are more miles of canals within its

boundaries than any other county in England

the page about the canals of England

on our The Prospect Before Us website

that was the beginnings of this website
some pictures(where noted) are
to whom massive thanks go out.